A note before reading: Ten years have now passed since I wrote this piece and it was published in YOUR MOTHER WOULD BE PROUD: True Tales of Mayhem & Misadventure (Edited by Jenny Valentish & Tamara Sheward/ Allen & Unwin 2009), and ten years have passed since I first released the song on 'It Walks Like Love'. Many more years have passed since I first wrote the song. It all still rings true. And I finally made my real country album, 'Lovers Dreamers Fighters' (2017)!
DEVIL'S LULLABYE 
---
DEVIL'S LULLABYE   
Mama took the baby last night  
So I could hit the town  
And I sure hit the town  
So damn hard 
I don't think I'll ever live it down  
Now here I sit with my head in my hands  
I can hardly think  
So I called my Mama and I said  
I think I'm gonna need a week  
Please don't bring my baby home yet  
My head is heavy  
My eyes are still red  
I feel as bad as I can get  
Please don't bring my baby home yet  
While she was drinking her bottle  
Mama, I was drinking mine  
Hers, sung her a lullabye 
Mine, it drove me wild  
I can't bear to think of what I said  
Or might've done  
In my battle with the bottle  
I think the bottle has won  
Please don't bring my baby home yet  
My head is heavy  
My eyes are still red  
I feel as bad as I can get  
Please don't bring my baby home yet  
If she saw me like this  
The Devil she'd think I had met.....  
(Carmen/Bowman)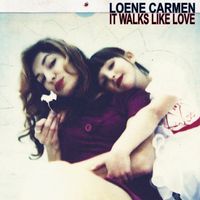 Babies. Shame. Drinking. Country music. They go hand in hand. An evergreen combination, in any order they come. 
Back then, round the time I wrote 'Devil's Lullabye', I thought I lived in a country song. I was pretty much obsessed with the Nashville sound. All I wanted to listen to was Loretta Lynn, Willie Nelson, Dolly Parton, Patsy Cline, George Jones and Tammy Wynette. Baby daughter at my feet, I was writing a lot of simple country tunes on my battered handmade old guitar, but weirdly I wrote most of them from the perspective of a Loretta Lynn-type character instead of my own – for the uninitiated that's a woman with a frighteningly large amount of children, a tour bus, on the verge of a divorce from a husband who drinks and cheats way too much and wants to 'love' her all the time. I was barely out of my teens, and yet to officially start a band, but I knew it wasn't far off and I knew I'd be ready. In my own little way, I was working hard. 
We lived in a huge, decrepit city warehouse nicknamed Easygoin' Manor with a few friends which we'd rent out once a month or so for underground dance parties to help cover our rent. While these were occurring, my little daughter and I would lock ourselves safely in the 'off limits' section and I'd try to pick some guitar or sleep through the pounding techno beats that were impossible to truly ignore. Although it didn't seem to worry the baby. And she can still sleep through pretty much anything. About 6am, baby on my hip, we would wander through the debris and lingering hardcore partiers to our kitchen, which had doubled as a bar for the party, where I would attempt to make her morning bottle and avoid conversation with the various headcases still wandering around. 
Although living within a certain degree of unsavoury circumstances, I was a pretty clean living girl in a dirty old world. 
It can be hard to rebel when you're the daughter of a wild rock'n'roller, as I was, and I still wonder if my strangely early retirement into devoted motherhood and days and nights of misty domesticity in pretty 50's dresses, to a country music soundtrack, while my friends were all still experimenting with good drugs, bad sex, loud music and hard living (or variations on that combination) was some back to front attempt to shock. I got all my teenage experimentation out of the way nice and early, and pretty thoroughly, so by the ripe old age of eighteen I felt about ready to put my feet up, feed the chickens and look back on the good ol' days. 
At seventeen months old, my baby didn't go to day care and hadn't yet been away from me overnight. I couldn't drive a car and I couldn't work out how to fold up the pram, so getting the bus was tricky. I spent a lot of time at home, alone with the baby and a guitar. And the dishes. I lugged bags of dirty nappies down to the local YWCA where if I snuck in I could use their washing machines. On hot days, we'd go swimming in the Hyde Park fountain. 
So, I guess this song emerged after my first night without my baby by my side. It'd been a mighty long time between drinks for me and I believe I was all fired up. We were throwing our own party at the warehouse and it was gonna be big. Mama was gonna take the baby for the night. It was someone's birthday or New Year's Eve or something like that and we'd hired infamous 1960's stripper Cigarette to perform her infamous backwards striptease and a country band that sang all my favourites. We had bales of hay strewn throughout the place, fairy lights and a well-stocked bar. 
My memories are forgivably hazy but like most people's reminisces of the 'big night out', I'm pretty sure they involve a cowgirl outfit, a lot of vodka, a little red wine, a little white, a little uninhibited free form dancing, a couple of joints, far too many cigarettes, inappropriately rambunctious renditions of Dolly Parton songs, a bit of tearful, desperate crawling and a long, long time on the cold tiles. Friends, old and new, took care of me as I paid for all the above sins. We watched the sun rise from the roof. There was a promise to start a country band forged with drops of blood. Scrambled eggs, aspirin and Coca Cola for breakfast before passing out and waking to a worried early afternoon call from my mama wondering when we were coming to get the baby. We'd said we'd be there by ten. 'Please don't bring my baby home yet' I must have jotted down next to the phone as I looked around the post-party apocalypse, groaned and begged my mama for another couple of baby-free hours. Kindly, so kindly, she agreed. 
God knows I didn't actually hit the town so damn hard I'll never live it down, indeed as far as a supposedly rock'n'roll tale of excess goes, I know its pathetic, it'd be just another Tuesday night at home for Jimmy Barnes. So, I felt no actual shame about my slightly out of character but hardly bad behaviour, but most importantly, I got a good song out of the night's experiences. I summoned up the feeling of shame. Everyone's allowed a little artistic licentiousness. 
Songs arrive in funny ways and of their own accord. This song just scrawled itself out in one short hit, based on the note on the telephone message pad and accompanied by some vague, unformed and useless tune. Then I put it in a drawer for a couple of years. Its nothing fancy, but in my heart, at that moment I felt I had come of age as a songwriter. I'd written something authentic and hurting, based on my own experience rather than my imagination. And I knew it had the power to move. 
Although the country music milieu is soaked in songs of drinking and regret, at that time singing one from my own point of view felt a little too ... shameful for me. As Joan Jett so beautifully put it, I don't give a fuck about my bad reputation, and yet ... I don't know what it was, but despite starting the promised country band soon after, I could never sing the song. Although the songs I did sing had names like 'Too Drunk To Remember' and 'Date Rape Blues'. Maybe I just didn't want DOCS to take my baby away. 
There is a myth of the great unfinished song. As a songwriter, it is a precious belief to cling to – that song that lives half written in the gloom of your drawer will one day raise its head and parade itself in all its gloriously perfected glory. It will make women weep and men choke back a tear. It will reunite lovers and raise memories from the dead. 
So a couple of years later when my guitarist friend Jim Bowman asked if I had any unfinished songs lying around, I dashed the words off for him. He wrote a beautiful, rollicking, anthemic tune for it, named it 'Devil's Lullabye' and my dear friend, the great country singer Miss Monica McMahon, who held the hair from my face as I paid penance on that night of abandon, did a cracker version of it with Jim in their band The Stepfords. 
It was always a major hit with the mothers having a night out. 
And my by then little girl would always proudly say "This is my song, isn't it Mama?" 
POSTSCRIPT: 
After playing in what sometimes seems like a million bands (some with my father, and now some with my daughter) and putting out records across a variety of genres, my thoughts have turned more and more to making a genuine country album and recording Devil's Lullabye for it. Along with some other old shameful ditties I wrote and stuck in dusty drawers with titles like 'Livin' In Sin (With A Law Breakin' Man)' and 'Prisons & Airports'. 
My little daughter's nearly all growed up now, and plays melodica in my somewhat deranged band. She sings like a honey bee, writes killer songs and is always supportive of mine. She loves Dolly Parton too. 
I have a dear little baby boy who's just turned one. When he cries, all we have to do is play him the first few bars of '9 to 5' and he's happy as a lamb. I haven't yet a had a big night out. I don't think I want one. Maybe I've come of age, whatever that means. I live in a house, can fold a pram (just), write a song from the heart and drive a car. 
Certain things endure, certain things pass. Wherever else I've been, and sometimes it feels like I've been everywhere, making country music always feels like home. 
And if I had to share a story about a little hard earned thirst and shame to get there, that's alright with me.